FAIRHOPE, Pa. – For years, Somerset County's famous bull elephant, Jackson, has lived a quiet life on nearly 1,000 acres of International Conservation Center land near Fairhope.
His small herd is about to get company.
And that will likely include American bison, visiting research teams from area colleges – and, yes, more African elephants to work toward developing a healthy, maternal herd, officials from the Pittsburgh Zoo & Aquarium-operated center said Thursday.
A year after Pittsburgh Zoo & Aquarium's new director, Jeremy Goodman, announced plans to transition the center into a more "community-based" facility, the site's new director outlined plans to make it happen during a Somerset County Chamber of Commerce event hosting local business leaders.
Their message to the group: While caring for and breeding the endangered elephants remains their key mission, they plan to expand education and conservation opportunities with the Somerset County community in mind, International Conservation Center Director Ayeshah Al-Humaidhi said.
Over the past 12 months, that has already included welcoming more than 1,000 of the region's school-age students through their remote Fairhope gates, she said.
And through conversations with the Somerset County Chamber of Commerce, area colleges and other organizations, efforts are in development to add workforce development initiatives to expose teens to conservation careers and summer camp-style youth programs – and to potentially welcome outside researchers who could soon have additional species to study and learn from, Al-Humaidhi told attendees.
"We've spent the past year listening about what this community is looking for – to become a valuable part of Somerset County," she said, "and we're excited about the idea of being a place … where the future generation of conservationists can train and learn."
Center officials said some efforts will likely come to fruition later this year, including bringing in bison from the Bronx Zoo, which has spent a century working to save the species from extinction.
Efforts are continuing to create new, education-focused ways to bring groups of youth into the center as well – but many of its broader efforts need community support, Al-Humaidhi told the crowd.
The event served as an introduction to the center for Somerset County business leaders and a fundraiser for the cause.
Al-Humaidhi outlined a list of projects that will need to occur to make many of the center's goals a reality, including additional fencing to separate elephants from other species – and guests safe from both. More barns and specialized elephant enclosures need to be added, while a classroom is being sought to educate students on site.
"Any support we can get will be hugely appreciated," she added.
Somerset County Chamber Executive Director Ron Aldom noted the partnership can pay dividends for the county.
The conservation center has existed in Somerset County for 15 years, but its mission has often been a quiet one, despite its mammoth 8,000-pound residents, he said.
In a community centered around agriculture, the work inside the center opens up a broader window to some of the careers that field offers, he said.
Not only will the center's expansion add to its own staff – and local employment – but also, education programs can encourage today's generation of Somerset-area students to pursue careers to find jobs locally in that field, Aldom added.
"Whether it's animal doctors, researchers, farm crews or equipment operators – it's all agriculture. It's just on a bigger scale," he said.
"When the baby is 900 pounds," he said, of the center's toddler elephant, Tsuni, "It's definitely a bigger scale."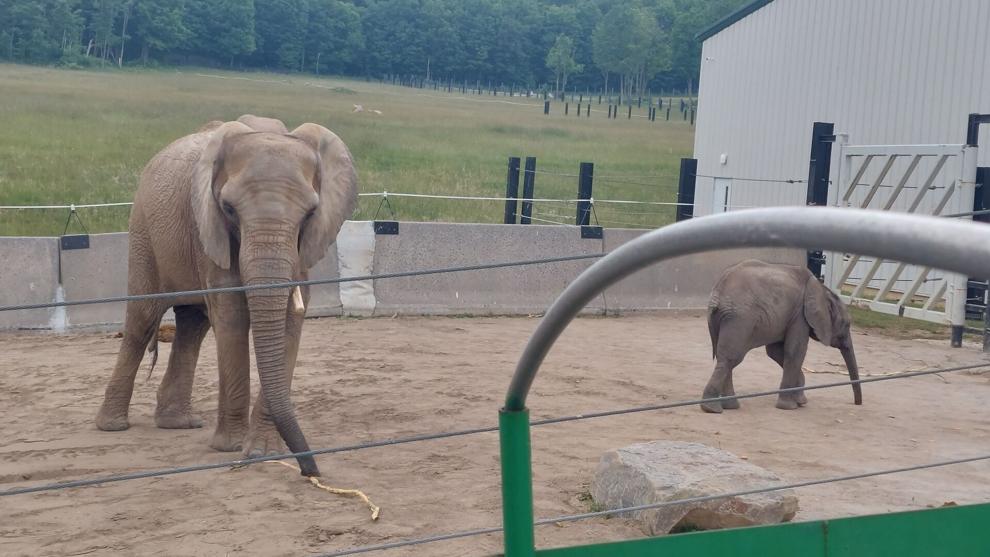 It's also an experience that few other counties in America can offer, Aldom added.
Event attendees got to see that for themselves Thursday, taking wagon tours of the vast conservation center grounds.
They viewed camps built through a partnership with Pittsburgh-based Project Destiny that could be available for local youth groups and Scouting organizations, and they watched staff feed Jackson, who often raised his trunk to show off for the crowd.
Tsuni, the 2021-born calf whose struggles at birth made headlines at the time, is now thriving and up to more than 900 pounds, zoo staff said.
Al-Humaidhi said the center would like to build a treetop-style scenic overlook to provide a better view of the elephants to visitors.
Pennsylvania Farm Bureau President Chris Hoffman and Somerset County Farm Bureau President Megan Hostetler praised the center's education- focused objectives – and the benefits they could bring.
"It fits perfectly with the farm bureau's goal of highlighting the diversity in agriculture … and the opportunities that exist," Hoffman said. "We're excited about the idea of building relationships here to see where we can take this."