At over 450 years old, St. Augustine, Florida, has a rich history as the oldest, continuously occupied U.S. city, and it sees more than 6 million visitors every year.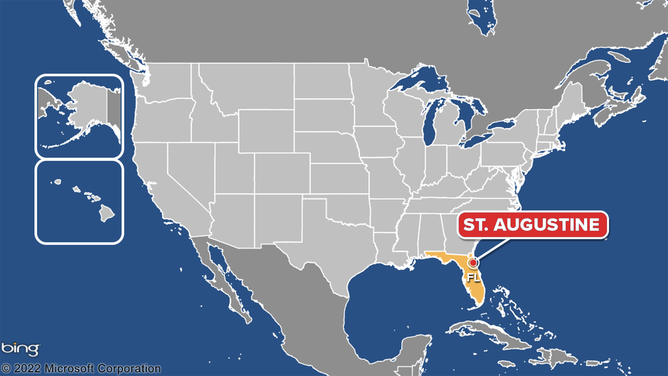 If you've ever been curious about visiting this seaside portal to the past, here's a little background on the city's origins, what you can expect on your visit and the best time to visit depending on the weather.
History of St. Augustine
The story of St. Augustine is the story of European powers vying for control in the New World – particularly, in Florida.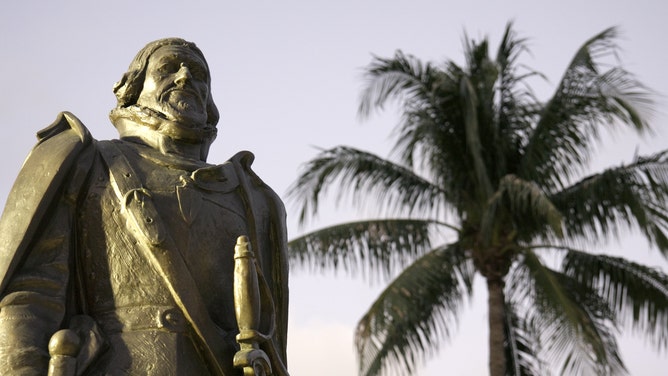 Spain laid claim to the Florida Peninsula after Spanish explorer Juan Ponce de León landed on its Atlantic shores in 1513. Ponce de León named the region "La Florida" for its floral vegetation and because the explorer landed there during Easter, or Pascua Florida in Spanish.
More so than Florida's floral nature, Spain recognized the peninsula's geopolitical significance. The Spanish crown saw Florida as a critical line of defense for the Gulf of Mexico and the Gulf Stream – the latter of which powered the Atlantic trade routes between Europe and the North and South American continents.
WHAT ARE TRADE WINDS?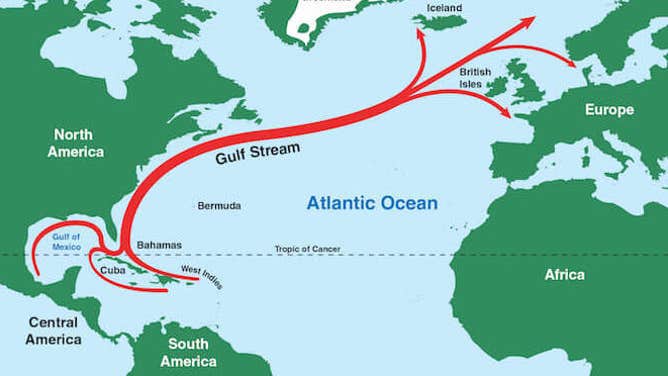 Because of this, Spain often fought with other European powers to protect its claim on Florida – and one of those fights led to the formation of America's oldest city.
It began in 1564, when France built a colony where Florida's St. Johns River empties into the Atlantic. Spain then sent conquistador Pedro Menéndez de Avilés, along with a fleet of 11 ships and an estimated 2,000 men, to destroy the French colony that following year.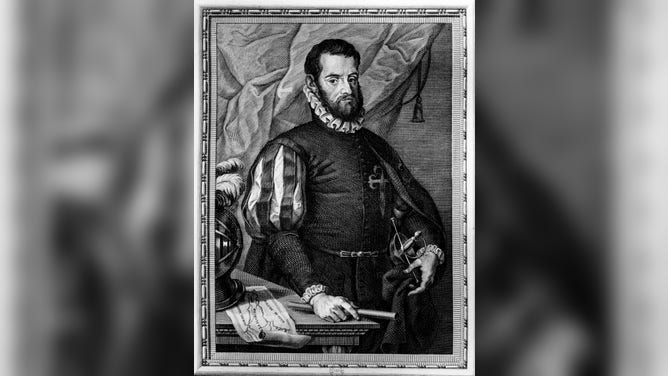 The Spanish crown also instructed Menéndez de Avilés to establish a colony for Spain.
On Aug. 28, 1565, Menéndez de Avilés came upon the site for this new colony. Located about 35 miles south of the destroyed French colony, the site was named San Agustín or St. Augustine, after a bishop who lived in the 4th and 5th centuries and whose feast day fell on Aug. 28.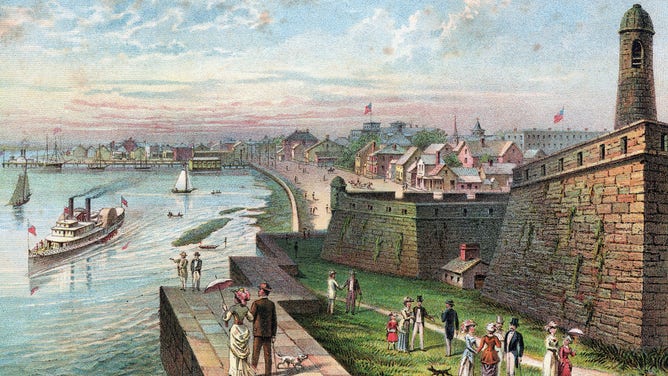 During the centuries that followed, St. Augustine would see Spanish power in Florida grow and wane, as it continued to fight off more challenges from other European powers.
Then, in 1821, more than 250 years after its founding, the city that was once the seat of Spanish power in Florida became part of the newly formed United States.
What to do in St. Augustine
Today, travelers can see the Spanish influence in Florida throughout St. Augustine.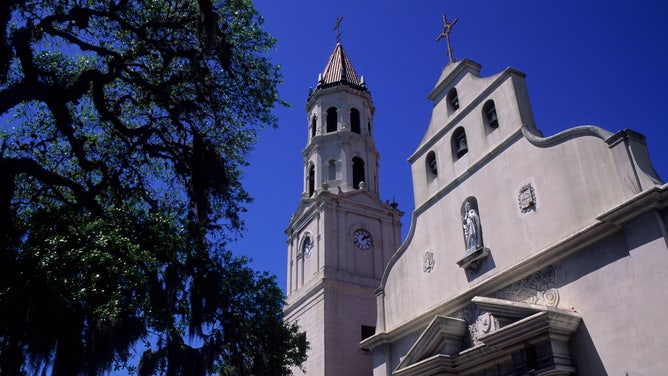 The St. Augustine Town Plan Historic District, in particular, includes some of the oldest structures in town. For example, here, visitors can find the Cathedral of St. Augustine. Built in 1797, the cathedral is a National Historical Landmark and is part of the oldest Catholic parish in the U.S.
Military history buffs would enjoy visiting Castillo de San Marcos, the oldest masonry fort in the country. Built by the Spanish between 1672 and 1695, the coastal fortress was established to protect St. Augustine and Spain's access to the Atlantic trade route.
OLDEST CITY IN AMERICA FINDS ITSELF BATTLING MOTHER NATURE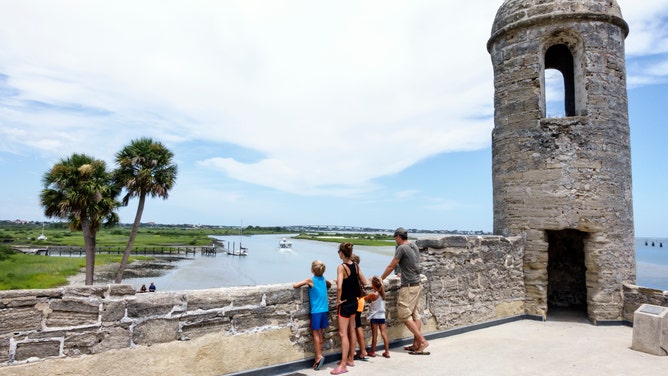 Art and architecture lovers can swing by the Hotel Ponce de León at Flagler College. Named after the Spanish explorer who discovered Florida, the hotel was developed by entrepreneur and Standard Oil cofounder Henry Flagler in the late 19th century. According to NPS, Flagler chose the Spanish Renaissance Revival style for the hotel's design, so it may complement its historic surroundings.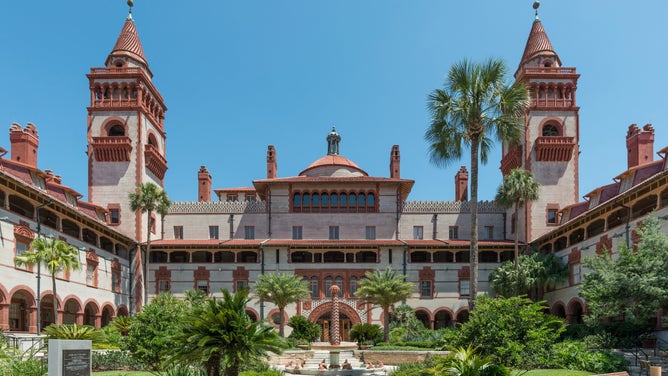 Music fans and families should check out the Colonial Oak Music Park in St. Augustine's Colonial Quarter. Located under a 300-year-old oak tree, the outdoor music venue features both local and professional touring music artists. The shows are almost always free of charge.
Families may also enjoy the Plaza de la Constitución. A National Historic Landmark, the plaza was established in 1598 and is the oldest public square in the country. Today, visitors can enjoy its park grounds, local vendors who set up shop there and events, such as the Concerts in the Plaza summer music series and the Nights of Lights display during the winter.
Directions to St. Augustine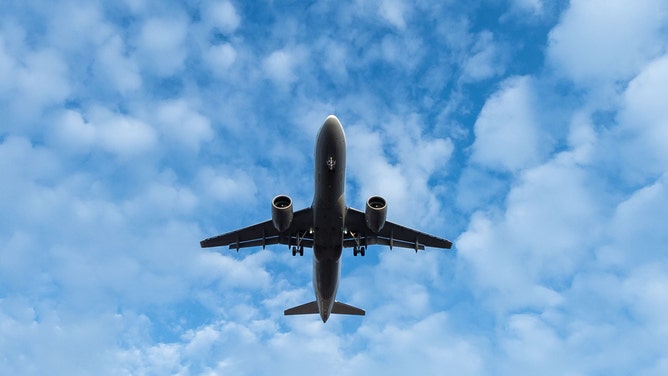 Travelers looking to fly to St. Augustine can travel through nearby Jacksonville International Airport or Daytona Beach International Airport, which lie about 50 miles north and 60 miles south of St. Augustine, respectively.
HERE ARE THE BEST TRAVEL TIPS FROM AN AIRLINE PILOT
At the airport, you can rent a vehicle to reach St. Augustine. The drive from either airport takes about one hour.
Road warriors can drive along Interstate 95 to St. Augustine. You will then take exit 318 for St. Augustine Historic Sites and Downtown.
Best time to visit St. Augustine
Spring has average high temperatures between 74 degrees in March and 85 degrees in May. Average lows range between 55 degrees in March and 65 degrees in May.
Summer in St. Augustine can be quite hot with average high temperatures around 90 degrees. Average lows are in the lower 70s.
HOW TO WATCH FOX WEATHER
Fall sees average highs ranging from 87 degrees in September to 75 degrees in November. Average lows are between 73 degrees in September and 58 degrees in November.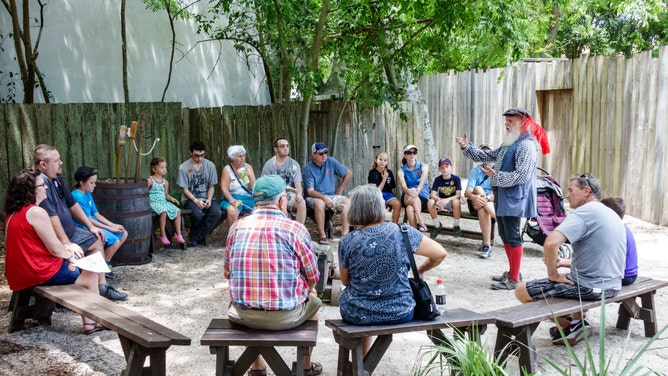 Winter average high temperatures are in the upper 60s, while average low temperatures during this season fall to around 50 degrees.
Visitors should note that St. Augustine has dry and wet seasons.
The dry season runs from October through May, and the wet season runs from June through September. The wet season often sees daily thunderstorms due to the heat and humidity of the summer months, according to the FOX Forecast Center.
Another season travelers should keep in mind is hurricane season, which runs from June through November in the Atlantic.
HERE ARE THE BUZZWORDS YOU'LL BE HEARING DURING HURRICANE SEASON
According to the FOX Forecast Center, 77 tropical systems have come within 50 miles of St. Augustine since 1850, and 18 of them were hurricanes.