JUST IN: SOCOM Needs New Tech, Old Approaches, Senior Leader Says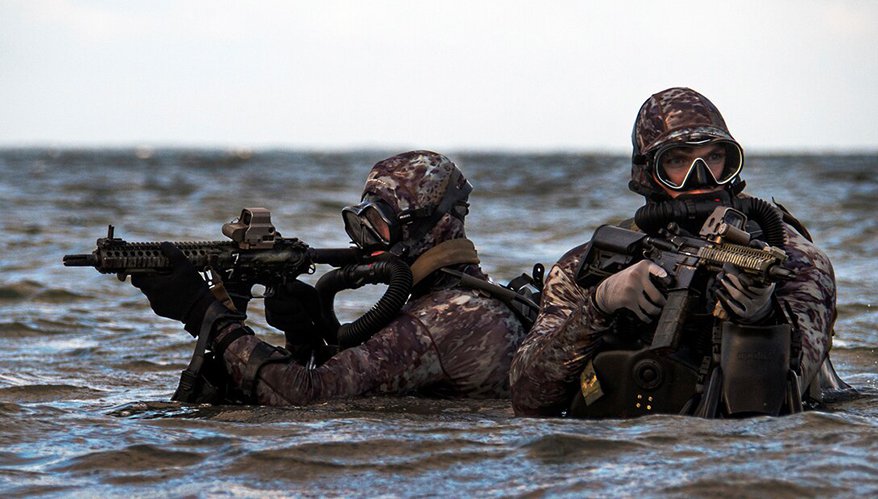 Defense Dept. photo
AUSTIN, Texas — While Special Operations Forces have spent most of this century countering terrorists and violent extremists, those missions are now taking a backseat to a new imperative: integrated deterrence, which requires updated technologies and a return to pre-Global War on Terrorism force roles, said the vice commander of Special Operations Command.
"That ship, the GWOT ship, has sailed," Marine Corps Lt. Gen. Francis Donovan, said Aug. 24 at the Fed Supernova conference in Austin. "That's important, because we want to leverage what we learned in those 20 years and some amazing abilities to fuse operations for very distinct effects on the battlefield, and … take what we learned and move forward because times are changing."
Today, 20 percent of the SOF mission is counterterrorism, which is now more challenging as it requires flying through air defense systems to get to the target, he said. Countering violent extremist groups is down from 80 percent of the SOF mission to 20 percent.
Sixty percent of the SOF focus is now integrated deterrence he said. "That term right now is really hard to put your arms around — what exactly does that mean?"
For the last 20 years SOF could set persistent surveillance and reconnaissance over a target, fly close air support, stage a quick reaction force, have casualty evacuation ready "and wait and then attack on our time and place of choosing," he said.
"Take it all away, throw it all away," he said. "That's no longer valid."
Going forward, SOF won't be able to call the timeline and the shots against a peer competitor, he said.
"And so we're thinking, and this is kind of back to square one," and why SOCOM was at the conference speaking to industry and asking for help, he said.
Some of the command's technology and equipment priorities are: collaborative autonomy, contested communications, maneuver in contested environments, maritime domain capabilities and next generation intelligence, reconnaissance and surveillance, he said.
"And I think really, I woud add here maneuver in contested environments would equate to contested logistics, contested and congested logistics," he added.
In addition to new technology, SOCOM needs to restructure the way the force units operate, he said. Instead of SEALs, Green Berets, Marine Forces Special Operations Command, or MARSOC, and Air Force Special Operations Command, or AFSOC, units all kicking in doors, they need to return to their historical specialties.
"Down low, frogmen in the water — don't need them raiding villages, need them back in the boats, back in the mini-subs, down on the seabed floor … they're doing surface and sub-surface activities," he said. "Then you have MARSOC and the Green Berets, AFSOC up in the sky. We have different programs working right now — how do we synchronize all that in time and space to ensure a Joint Force effect for that Joint Force commander?"
And learning how technology can support the mission is another part of the equation, he said. What if all the kit special operators use with local partner forces can support local forces and also pull data, open-source intelligence, and push that back to commanders so they are always prepping the environment? he asked.
"And that the data is backhauled. How far back? I'm not sure," he continued. "We're still trying to figure out where's the server stack? Where's the cloud? How does all work? We're working on that right now."
Then the forward team, "whether they're subsurface, on the surface, ashore with allies and partners in key locations — how does that at the time required, we can flip that force, and that sensor becomes absolutely capable at a moment's notice?" he said. And that sensor puts data into the joint fires network, "and we can deliver a very precision effects for the Joint Force as they fight their way back in against a significant peer threat," he continued.
"So that's the journey we're on right now," he added. "And in the command, we've made great strides and some of the things we're doing — testing the force, training the force — we're making remarkable linkages, seabed to space," but the command needs industry's help with that, he said. "There are some gaps in that I think you all can help us cover."
But industry needs to recognize SOCOM's needs and budget restrictions, Donovan said.
"I'm telling you as vice commander of SOCOM, if you're not on that journey of seabed to space, I'm not interested, honestly," he said.
SOCOM's budget has remained flat for the last three years, adding that has meant a loss of buying power due to inflation. The command has had one year's worth of total obligational authority in the last three years to apply to modernization, he added.
"We're doing some great modernization," he said. "And we have to figure out what's the size, the force and how we want to move forward."
Special operators need to step back into the shadows a little more, he said. "But be in the right place in the world to help the Joint Force commander give, from the president down, that Joint Force commander options that are big — they're built by an incredible bottom up operating force that has a great mixture of operators [and] enablers that come together to provide the nation a capability that doesn't reside anywhere else in the services and the Joint Force and that's kind of the path we're on."
Donovan stated that he's skeptical of the promises of what technology can deliver and how quickly.
"I was in Europe a little over a year ago leading a task force in the Black Sea and over in the eastern Mediterranean … and I get all the promises, all the tech, all that," he said. "I'm a cold, hard, wet, dark night guy. Does it work? Kind of work on demand? Is it actually supporting me, or am I a slave to the machine that you promised this great result?"
"The key is that we see promise — we don't know where it all fits in right now," he continued. "And I see like data, everyone's buying data right now. … People talk about data like ISR was 20 years ago. We all want an ISR, the unblinking eye, and I'm not sure that was all correct either, but so I'm kind of still in the journey myself."
Donovan said he was using the visit to Austin as an opportunity to gain a better understanding of the industry and ecosystem. The Defense Industrial Unit was of particular interest to him in helping modernize SOCOM.
"We're going to try to jump onto there and understand their world better and help kind of cross lines much, much better between SOCOM-DIU, DIU-everybody," he said. "But since we're a little bit different, unique, I think we can move forward faster with them."

Topics: Logistics, Emerging Technologies