Economic times are challenging now, but Metro Vancouver's economic development agency has tracked the region's top-performing industries to bolster its economic sales pitch for the future.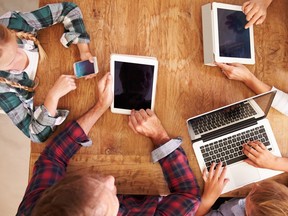 Article content
Metro Vancouver's high-tech services sector and digital-media industries have endured rocky periods in the post-pandemic recovery, but they remain among the region's fastest-growing economic engines, according to an analysis by Invest Vancouver.
"What really stood out for me was that confirmation of what we already suspected," said Jacquie Griffiths, president of Invest Vancouver, Metro Vancouver's economic-development agency.
Article content
Invest Vancouver included a dedicated statistical analysis of the region's top export-focused sectors in its 2023 work plan, which Griffiths said hadn't previously been grouped together in this way.
The agency has submitted its full report to Metro Vancouver's board, which will be received as part of the agenda for its Friday meeting.
"You'll see a fair amount of focus on the tech sector (in the future) and what we can do to support it locally, but also what we can do to market it internationally," Griffiths added.
Conditions in the short-term, however, are challenging. Central 1 Credit Union chief economist Bryan Yu characterized 2023 as B.C.'s "weakest year for economic growth in 20 years," outside of the pandemic and the 2008/09 financial crisis.
B.C.'s economy has slowed due to inflation and the high interest rates the Bank of Canada has imposed to combat rising prices, which have both crimped consumer spending as well as tampered down activity in real estate, Yu wrote in his most recent economic forecast.
Yu told Postmedia that those conditions have also made it difficult for high-tech businesses to raise financing for growth, particularly previously high-flying startups.
Article content
"We haven't heard of any substantial hiring binges on the part of any of the (major firms) in Vancouver," Yu said. "I think that's really just a reflection of the fact we have seen very little private-sector growth," in the economy.
Until the slowdown, however, Invest Vancouver's analysis tracked considerable growth in sectors such as high-tech goods, high-tech services, life-sciences, transportation and logistics.
Notwithstanding short-term challenges, firms in high-tech services have collectively become Metro Vancouver's biggest employers, accounting for 80,000 jobs as of 2021, according to the analysis, a 109-per-cent growth from 2001.
As a component of the region's economy, high-tech services grew 116 per cent between 2001 and 2020, measured in terms of gross domestic product, hitting $2.91 billion in 2020. That was faster than the overall economy, which grew by 74 per cent.
Digital media and entertainment grew by 167 per cent on the same measure, hitting $1.85 billion in 2020, thanks in large part to skyrocketing growth in post-production services for television, film and digital media productions.
Article content
Employment in post-production services has increased seven-fold since 2001 to reach 3,200 individuals in 2021 within an overall workforce of 20,500.
Looking at the future, Griffiths said Invest Vancouver wants to make the data available to Metro Vancouver, municipalities and industry groups that reside in the region "so we can all get on the same page when it comes to making decisions."
And that past growth bodes well for B.C. once the interest-rate environment stabilizes and creates better conditions for economic growth, Yu said.
"I suspect that we'll still see that type of growth coming forward," Yu said. "There was a reason why we had those gains in the first place, and that largely has a lot to do with the fact that there are quite a few skilled individuals in these areas in Vancouver.
"We tend to draw and attract certain types of skill-sets to the region."
x.com/derrickpenner
---
Bookmark our website and support our journalism: Don't miss the news you need to know — add VancouverSun.com and TheProvince.com to your bookmarks and sign up for our newsletters here.
You can also support our journalism by becoming a digital subscriber: For just $14 a month, you can get unlimited, ad-lite access to The Vancouver Sun, The Province, National Post and 13 other Canadian news sites. Support us by subscribing today: The Vancouver Sun | The Province.