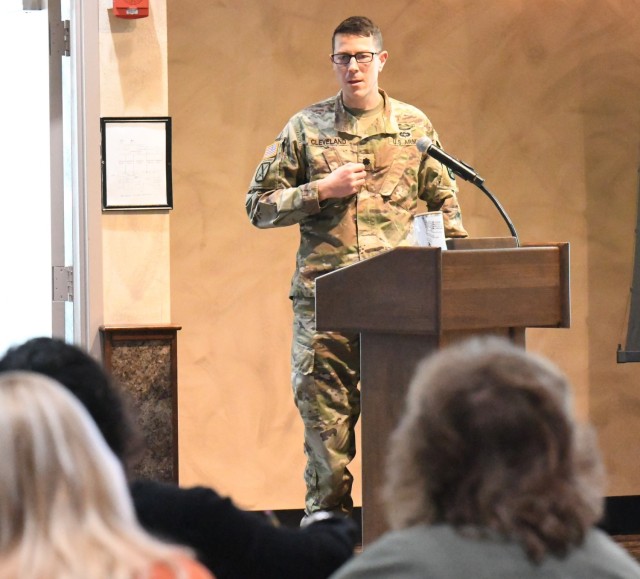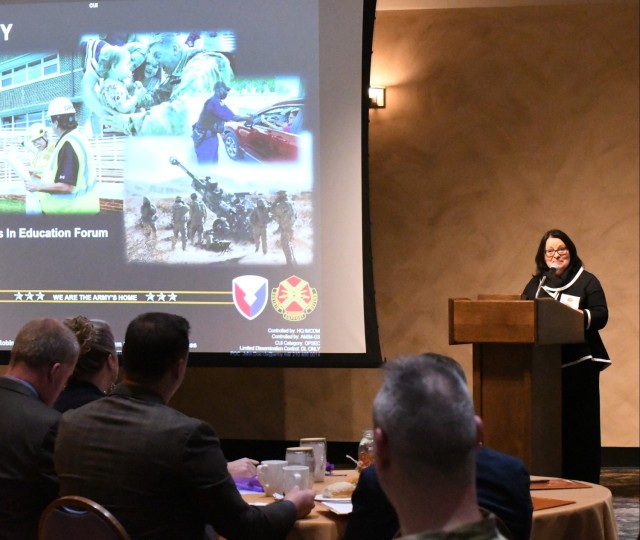 FORT DRUM, N.Y. (Nov. 17, 2023) — It takes a community to educate a child, and partnerships between Fort Drum and local school districts helps ensure that students receive the support and guidance they need for academic success.
This is an ongoing, collaborative effort, which is why Fort Drum officials met with local school administrators and professionals Nov. 15 during the annual Partners in Education Forum.
"This forum gives us a chance to share resources and information with the school districts that support our students, both military and civilian," said Wendy O'Sullivan, Fort Drum school liaison officer. "We also take an opportunity every year to discuss relevant school and military issues that may impact students and share some best practices."
Col. Matthew Myer, Fort Drum garrison commander, said his own experiences as a military child remind him of the unique burdens students often experience.
"It's easy for them to feel a lack of security and predictability about what they are doing," he said. "They think about when the next time one of their parents is going to leave for deployment or the next time they will have to move. My spouse and I spend a lot of time focused on how we can create a great experience for our kids, and what I need to do to be proactive as a parent in creating that environment."
Myer said advocating for students to have access to the care and support they need is paramount. He cited the Military and Family Life Counselors (MFLC) program as a critical resource in schools so that military students have a reliable place to go when they need help.
"We want to build safe spaces in our schools because that's where they spend a majority of their time," he said. "Sometimes the most predictable thing in their life will be school – they can rely that their teachers will always be there, they can rely on their friends being there."
Among the forum presenters, Dr. Todd Benham, Department of Behavioral Health chief, spoke about their mission to promote Soldier readiness and access to care. He also discussed support services offered through the Soldier and Family Readiness Division, including the Family Advocacy Program and the New Parent Support Program.
Maureen Haney, senior manager for military and federal programs at Tutor.com, informed educators about the no-cost, live online support available 24/7 for military and Department of Defense families. Subject-matter experts can assist students in more than 150 subjects, from kindergarten to 12th grade and bachelor-level college support.
Lt. Col. Marc Cleveland, 10th Mountain Division (LI) information operations officer, introduced the Mountain Outreach Program called Snap-Link, which connects Army units with communities across the North Country to partner in special events and volunteer activities.
He also spoke about the Army Career Day events at Fort Drum, which began as a commanding general's initiative to invite grade-school students to the installation and meet with Soldiers. Cleveland said it helps to dispel popular misconceptions about Army life and present the diversity of career fields available.
"We talked about leadership, teamwork and what it means to be a member of the team," he said. "It wasn't about how many push-ups you can do or someone yelling at you all the time – which is what a lot of people think the military is all about. This is our opportunity to expose students, teachers and superintendents to today's Army."
The Partners in Education Forum also included a "District Showcase" segment, where school district representatives highlight success stories from educational initiatives. Last year, Carthage Central Area School District teachers brought in therapy dogs and explained how canine friends in the classroom created positive effects on students' well-being.
This year, Watertown City School District representatives spoke about STEM (Science, Technology, Engineering, Mathematics) programs launched through Department of Defense Education Activity grants.
The forum concluded with an installation tour that covered educational, fitness, recreational, family support, and military training facilities across Fort Drum.
"This was new to this year's forum," O'Sullivan said. "We had some inquiries from some of the principals that were interested in doing this because it helps school personnel better understand Fort Drum. They see the Commissary and the PX (Post Exchange), the Youth Center and child development centers, and then they realize that this really is a community in itself."
This also was demonstrated during the forum by the informational booths available for attendees to speak with representatives from the Soldier and Family Readiness Division, the Safety Office, and the MFLC program, to name a few.
"Fort Drum offers parents and families access to a lot of resources and support, and sometimes people aren't aware of what is available," O'Sullivan said. "We wanted to share this with educators and give them a memorable experience here, because we value the partnerships we have with them."
O'Sullivan said the relationships Fort Drum has with local school districts is the reason for the positive feedback she receives.
"People talk about how great the schools are here, and how supportive they are of military families," she said. "As a school liaison officer who came here from a very large school district, the relationship we have with the superintendents – it's a great two-way support system. The communication is prompt and concise with a great level of respect, and I think that helps circumvent any concerns that may arise."
She said that some military families may find it odd to relocate to an installation without schools, but O'Sullivan said that they are often appreciative of learning what makes Fort Drum a unique duty station.
"When families call, we try to be the ambassador for Fort Drum because oftentimes we're the first touchpoint for them," she said. I feel like when we highlight all the amazing things about the North Country, that gets people excited about coming to Fort Drum. I mean, we have beaches in the summer, we have amazing snow activities in the winter, and in less than an hour drive you can visit another country! It's really a great place to live."