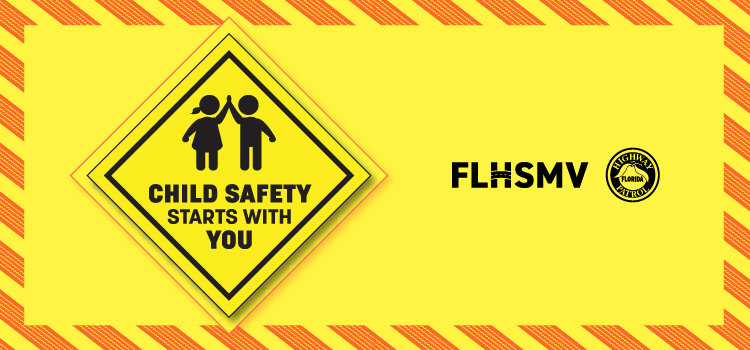 ~ August safety campaign to focus on securing our children's future by educating and raising awareness of safety practices~
TALLAHASSEE, Fla. –As Florida students head back to school, the Florida Department of Highway Safety and Motor Vehicles (FLHSMV), its division of the Florida Highway Patrol (FHP), and our safety partners throughout the state are working to educate and engage Florida's parents, caregivers, and motorists on the importance of safe driving with and around children through FLHSMV's Child Safety Awareness Month campaign.
"Awareness of behaviors that impact a child's safety should not just be recognized one month a year," said FLHSMV Executive Director Dave Kerner. "It is up to us all to make sure that children, parents, and the community are educated and vigilant in ensuring that safety practices are in place and enforced daily."
In 2022, there were a total of 119,903 children ages 0 to 17 involved in a crash in Florida as either a passenger, driver, or pedestrian, resulting in 1,220 serious bodily injuries and 156 fatalities. As children travel to and from school, motorists must ensure they arrive safely by obeying school-zone speed limits, remaining attentive around child pedestrians and bicyclists, and properly stopping for school buses. In 2022, there were 3,000 school bus crashes in Florida.
"Safety is always a priority, and when it comes to our kids, the best way to teach them safety is to practice it," said Florida Highway Patrol Colonel Gary Howze II. "Kids learn from watching those around them, and when they observe a parent or loved one engaging in safe practices, they are more likely to do the same."
In 2022, almost 30% of child passengers killed in vehicle crashes in Florida were not wearing any type of restraint. A seat belt or child restraint is a vehicle's most important safety feature, but it only works if they are used and used correctly, every time. Florida law requires the use of seat belts or child restraint devices by drivers of motor vehicles, all front-seat passengers, and all children under 18 riding in a vehicle. Florida law also requires children ages 5 and under to be secured properly in a crash-tested, federally approved child restraint device.
FLHSMV is joined by its many partners across the state to keep Florida's children safe:
"Children deserve to grow up in a safe environment and should be protected at all costs, especially at school and on their way to school," said Commissioner of Education Manny Diaz, Jr. "With the start of a new school year, it is important to highlight Child Safety Awareness Month and emphasize ways to help keep our children safe."

"Nothing is more important than the safety and security of our students heading back to school.  As more traffic hits the roads, more distractions are likely to occur.  If we all make it a priority to increase our awareness, practice safe driving habits, and limit distractions, we can keep our children and communities safe from accidents.  "This is everyone's responsibility," said Andrea Messina, CEO, Florida School Boards Association.

"As school resumes, it is important to focus on the safety and wellbeing of the millions of school-aged children throughout Florida as they arrive to and depart from school, as well as their families, crossing guards, and other pedestrians," said Florida Department of Transportation Secretary Jared W. Perdue, P.E. "Safety is our top priority at FDOT. We encourage everyone to be alert, avoid distractions, slow down in school zones, and ensure a safe school year for school children and their communities."

"The Florida Police Chiefs Association commends the Florida Department of Highway Safety and Motor Vehicles for their child safety awareness campaign. As the school year approaches, let's prioritize the safety of our children — when you're driving through school zones or near school buses, reduce your speed, eliminate distractions, and stay alert for pedestrians. Together, we can create a safe environment for students. Join us in protecting their lives and ensuring a successful school year," said FPCA President Keith Touchberry, Chief Fellsmere Police Department.

"One of the Florida Sheriffs Association's five primary goals surrounding our mission and values is to protect and support our youth. With school back in session, it's important to slow down, watch closely for students, and be mindful of speed limits near schools. The Sheriffs of Florida fully support the Florida Department of Highway Safety and Motor Vehicles' Child Safety Campaign because it saves lives," said Nassau County Sheriff Bill Leeper, President, Florida Sheriffs Association.

"Students deserve to make it to and from school safely," said Michele Harris, Florida Public Affairs Director, AAA – The Auto Club Group.  Stay vigilant, obey speed limit laws and keep your eyes, hands and mind fully focused on the task of driving."
FLHSMV's Back-to-School Safety Checklist:
Secure their future – buckle up and choose the right seat.
Seat belts save lives. All drivers must use them, including front-right passengers and anyone under 18; FLHSMV strongly recommends seat belt usage for all ages.
The best car seat is the one that fits your child's size, is correctly installed, works well in your car, and is used appropriately every time you drive.
Be sure to read the seat's instruction manual and the portion of your vehicle's owner manual when installing a car seat in your vehicle.
Remember to check for car seat and booster seat recalls and sign up to receive any potential alerts in the future.
Stop for school buses and slowdown in school zones.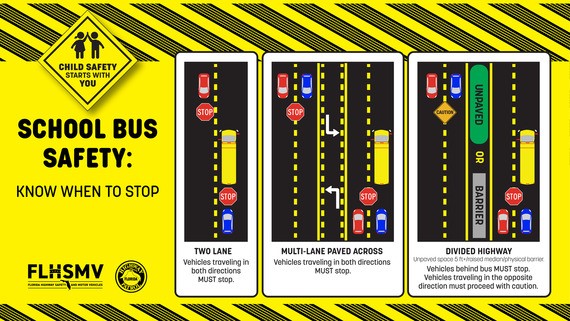 As of January 1, 2021, the penalties for failing to stop a school bus and passing a stopped school bus on the side where children enter, and exit doubled. It is imperative that all motorists properly stop for school buses so all of Florida's children can arrive at school or home safely.
Using a wireless communications device in a handheld manner while driving in a designated school crossing, school zone, or active work zone area is against the law and extremely dangerous.
Be alert and watch for children, especially near schools, bus stops, buses, and parking lots. Pay extra attention to the lower speed limits in school zones. Only drive or park in authorized areas to drop off or pick up children at school.
Move safely together – look out before you step out.
Always walk on the sidewalk if there is one. If no sidewalks are present, walk against the traffic direction so you can see oncoming vehicles.
Cross the roadway where pedestrians are expected, at corners or crosswalks, and watch for traffic when crossing the street.
Pay attention. Avoid headphones so that you can hear the traffic and pedestrians around you. Never text or look at your phone when crossing the street.
Check for kids and pets.
As routines change, it's imperative to remain vigilant and ensure all children are out of the vehicle and accounted for before leaving. Put your purse, phone, or shoe in the backseat as a reminder to check.
Never leave a child or pet unattended in a vehicle. Florida temperatures are hot and will rapidly increase in minutes, even if parked in the shade or with a window cracked.
For additional safety tips, resources, and data related to child safety, visit the FLHSMV Child Safety webpage for more information.
###
The Florida Department of Highway Safety and Motor Vehicles (FLHSMV) provides highway safety and security through excellence in service, education, and enforcement. Learn more on our website.
The Florida Highway Patrol strives to achieve core values of courtesy, service, and protection. It is FHP's job to help ensure the safety and welfare of millions of Florida's residents and visitors every day.
To learn more about FHP or how to become one of Florida's Finest, visit BeATrooper.com.