An attorney representing former President Donald Trump was forced to leave a New York City courtroom mid-hearing to remotely attend a hearing in Florida, also regarding the ex-president's legal battles.
Lawyer Christopher Kise, who is a member of the former president's legal team in multiple proceedings, ducked out of Trump's civil fraud trial in Manhattan to phone into U.S. District Judge Aileen Cannon's concurrent hearing in the ex-president's Florida-based criminal documents case on Wednesday.
"We'll miss you," New York State Supreme Court Justice Arthur Engoron said just after Kise informed him that he was leaving the hearing, according to a post from Law360 reporter Stewart Bishop on X, formerly Twitter.
Newsweek reached out to Kise for comment via email on Wednesday.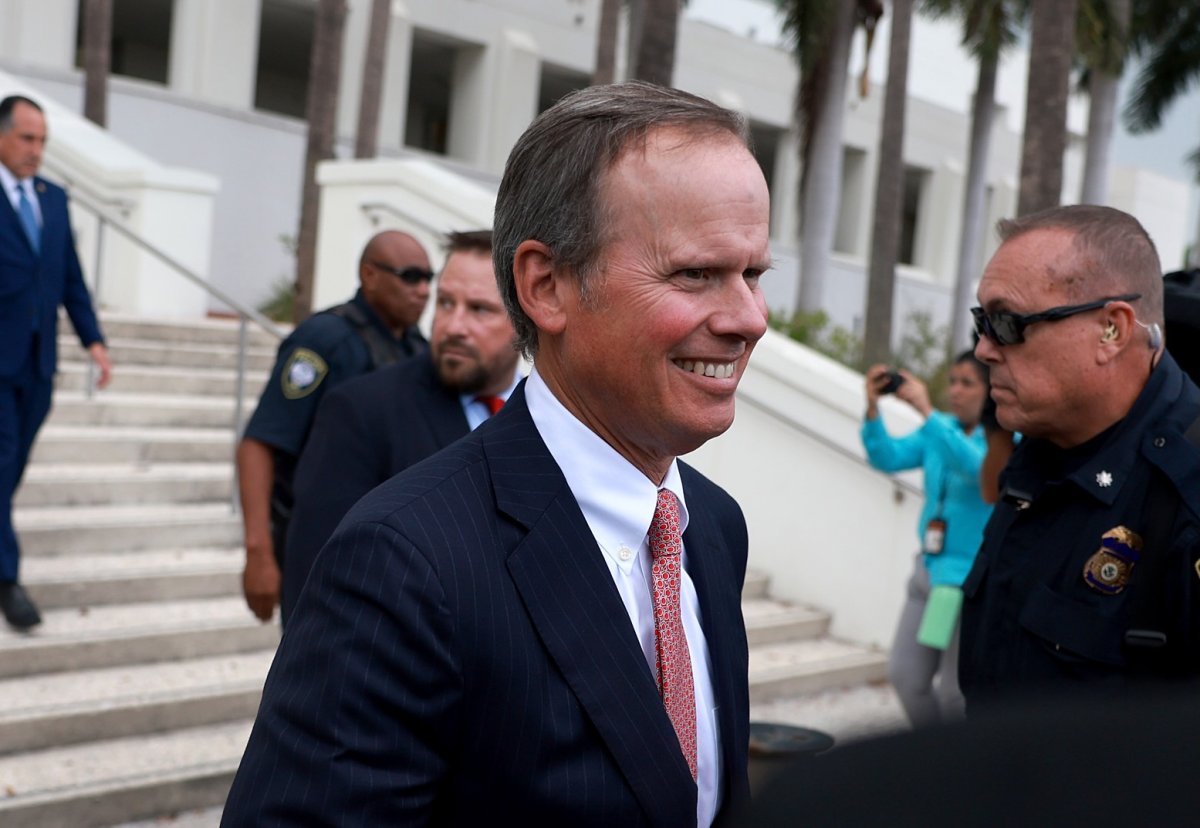 A court filing requesting that Kise be allowed to appear in the documents case "telephonically" previously indicated that Trump's co-counsel in Florida, Todd Blanche, would be attending the hearing in person.
Wednesday's hearing in the case overseen by Cannon, one of two federal criminal cases against the ex-president, was expected to deal with issues surrounding the scheduling of the trial, which is set to begin May 20.
Trump has requested that the trial be postponed until after the 2024 presidential election, claiming that all legal proceedings against him amount to "election interference."
The office of Special Counsel Jack Smith is opposing the request for a delay to the trial, arguing in a filing last month that there is "no justification to delay the pretrial schedule and trial of this case."
In Florida, Trump is facing 40 felony charges related to his post-presidency possession of sensitive government documents and accusations that he attempted to conceal them from authorities.
Trump is facing a second federal criminal trial in Washington, D.C., where he is charged with four felonies related to attempts to overturn the result of the 2020 presidential election and to the January 6 attack on the U.S. Capitol that followed.
Two other criminal cases, an election subversion case alleging 13 felonies in Georgia and a business fraud case charging 34 felonies in New York, bring the total number of charges against Trump to 91 across four indictments.
Kise argued in a court filing last month that the timing of Trump's trials, set to begin within months of each other, shows that federal prosecutors are attempting to violate his rights.
"The fact that they continue to contend that it is appropriate and not a violation of President Trump's due process rights to push forward with back-to-back multi-month trials in different districts with wholly different facts—over a defendant's objection— reveals a central truth about these cases," Kise wrote.
The New York trial overseen by Engoron is one of several civil cases against the ex-president. Engoron already ruled in a summary judgment that Trump was liable for fraud, with the trial continuing to determine the extent of any penalties.
Trump has pleaded not guilty to all of his criminal charges and denies wrongdoing in every legal proceeding that he is facing, claiming that he is the victim of political "persecution" and a "witch hunt" orchestrated by Democrats.
Uncommon Knowledge
Newsweek is committed to challenging conventional wisdom and finding connections in the search for common ground.
Newsweek is committed to challenging conventional wisdom and finding connections in the search for common ground.